Mark's Guitars

I have 71 guitars (this includes Basses and Acoustics), but my main guitars are 2 Parker Fly Deluxe guitars (customized with GK2A midi pickups for my Axon guitar synth and Yamaha Motif rack XS to go along with the magnetic and piezo pickups already on there); a Parker P-36 Tele Style guitar with Chris Kinman 48 Broadcaster Tele pickups in them (I also had nitro cellulose sprayed on the back of the neck by Rick LeGault for a vintage feel); a Parker PM20 Les Paul style guitar with a mahogany body and a figured Bubinga top with Virtual PAF pickup; a Parker P-30 Strat style guitar - antique creme with a pearlized pickguard and Chris Kinman Woodstock plus pickups installed; An Ibanez Artcore AF75TGD guitars with gold hardware (one in Candy Apple Red and one in Piano gloss black) that I had Noll Guitars "Getschify" (my term for turning Ibanez Artcore hollow body guitars into Gretsch guitars) for me (gold Gretsch knobs, volume knob on the lower bout, selector on the upper bout, the original selector turned into a kill switch, and TV Jones "TV Classic" pickups in the Candy Apple Red guitar and TV Jones Magnatron (like the DeArmond single coils in the Duo Jet) in the Black one; An early seventies Univox "Gimme" Les Paul (identical to the one I owned in 1976) that Jim at Noll guitars restored for me. He also installed a Graph tech Ghost system for piezo acoustic sound and midi guitar synth output. As of 2011 the lineup of main guitars has changed. All of them have been modified with Graphtech Ghost MIDI pickups and have been either painted, had neck reshaped or both by Jim at Noll Guitars. They are: The Univox "Ripper" Strat, the Parker Life Saver Red P-30, The Red Artcore with the Ghost MIDI Pickup (and the Candy Apple Red Artcore AF75TGD, without the Ghost pickup), The Purple Epiphone Les Paul, The Univox "Gimme" Les Paul, the Epiphone Wine Red Casino with bigsby (no Ghost pickup) and my two Parker Fly Deluxe guitars as backups. These are what I gig with and record with, for the most part (I also often use the Jeff Beck and the 56 Gold Top Les Pauls to record with). I recently received an Epiphone 50th Anniversary 61 SG that I hope to install a Ghost Pickup in and use as one of the main guitars.

Jim at Noll is an artistic genius and a highly skilled craftsman who, besides buffing and fixing some dings on my 70s Univox "Gimme" Les Paul, restored a badly damage headstock and hand painted part of the logo that was damaged and you can not tell that it was ever damaged. It looks just like the one I owned, in the 1970s, the day it came out of the music store. He has matched and reshaped necks for me. He has painted bodies and refinished necks for me. The work always came out better than new. I can't say enough about his work. He is the best, period.


Stan (with his knowledge of history and his great stories) does great pickup installation, wiring and setup (we've know each other for quite a long time). Steve is great too. He does pickup installation, wiring and setup. And, of course, Ralph is there to help you with anything that you need. If you need any work done on your guitars, especially your vintage babies, these are the guys to go to. I can't say enough about them and I highly recommend them.


A 70s Univox "Ripper" Strat copy guitar, that Jim at Noll also restored. Jim repainted it white (bright inkjet paper white), potted the pickups, installed the Ghost pickup system and reshaped (to match my Parker P-30), refinished and refretted the neck. A mid 70s Univox Deluxe Les Paul and a Parker P-30 that Jim painted Cherry Life Saver Red (my color idea, I told Jim that I wanted it to look like a Cherry Lifesaver, not Candy Apple Red), sprayed the neck with a nice gloss finish and added a Ghost pickup system to it. It has a pearlized pickguard, maple neck and Gold Lace Sensors in the neck and middle and a Dimarzio Fast Track in the bridge position; A guitar that Noll Built for me from an Aria Pro II maple neck that I had. They added a tropical green Tele body, GFS Lil Puncher pickups and a Pearlized pickgaurd; a wine colored Epiphone Casino that Noll added a Bigsby Tailpiece and had Lindy Frailin install his noiseless P-90s in the Epiphone chrome covers. A Red Parker P-36 Tele style guitar with a Dimarzio Area-T in the neck and a Fast Track-T in the bridge, along with a Ghost system for MIDI. Jim put a nice glossy finish on the neck. An Epiphone Les Paul Classic (that used to be translucent black) that Jim painted Purple Metallic for me and put on custom glitter knobs, selector ring and pickup rings. I also have a new Red Artcore that Jim installed TV Jones TV Classic pickups and a Ghost MIDI system in for me.

My other favorite guitars that I use most for recording, rehearsing and performing are: a 1972 Gibson Les Paul Custom, an Epiphone honeyburst Les Paul Standard with Virtual PAFs, a Fender 60s Tele with Kinman 60s Telecaster pickups, an eighties Japanese reissue 1957 Fender Stratocaster (Candy Apple Red) with Seymour Duncan Vintage Rails and a GFS Lil Killer in the bridge position, an Epiphone cherry red Dot (ES335), an Epiphone G-400 Custom (Three pickup Les Paul/SG Custom), an Epiphone '66 G-400 SG with Seymour Duncan Phat Cat Humbucker size retrofit P-90 pickups, an Epiphone Limited Edition G-400 "Goldtop" SG and an Epiphone '56 Goldtop Les Paul with P-90s, an ebony Epiphone Classic Les Paul, a Gibson SG Junior and a Gibson Violet Burst SG Goddess, Three different early 90s Yamaha Pacifica guitars (Royal Blue 921 with lace sensors and an Virtual PAF bridge humbucker , Yellow 1221M with a Virtual PAF neck-a class of 55 middle- and a Virtual PAF bridge pickup, and a Red Glitter 1230S with two Q100 P-90 style pickups and a Virtual PAF bridge humbucker), A White Brian May Signature Guitar and a Dillion Brian May Guitar with three Burns Tri-Sonic Pickups, two Ibanez Artcore AFS75T guitars (an electric blue with stock pickups and a turquoise one that Noll installed TV Jones version of the Gretsch HiLo'tron pickups in it and added a volume to the lower bout to make it sound and play like a Gretsch Tennessean) and a Gretsch reissue of the 6122 called The Country Classic (the guitar that George Harrison used on The Ed Sullivan Show in Feb. of 1964). An Epiphone 1954 Oxblood Les Paul (Jeff Beck Model) and an Epiphone 50th anniversary 1960 ltd. edition Les Paul.

As of  late 2012, I am using Xaviere guitars and they have become sme of my favorites. I can't believe the quality and playability vs price. These guitars ROCK!
Especially the XV-890 dual humbucker in sunburst (which, along with my Honeyburst Epiphone Les Paul Standard Plus Top Pro, have become my two favorite guitars) and the XV-890 HSS, in purple, with a Ghost System installed by Jim at Noll. I also own an amber XV-900 (ES-335 style), in which I had Dream 180 pickups installed, and a Cherryburst XV-510 Carved Top Quilted maple (Les Paul style).
I also use an Epiphone 1966 reissue Wilshire, in which I had GFS Liverpool pickups installed. Great raw rock sound. Very Pete Townshend (Pete used a Grestch with filtertron pickups on Who's next and Quadraphenia, but it is a bit wild using this hollowbody live with a big rig; using these filtertron based pickups with the solid body Wilshire, does the trick...kind of a cross between an SG and a Grestch).
My very good friend and student, Jon, bought me a Martin Custom acoustic guitar. He put in a bone bridge, bone pins, upgraded pickguard and adjusted the action for me. This is now my go to acoustic
Gibson SG Jr., Gibson SG Goddess, Brian May Signature Guitar, Epiphone Les Paul Classic and an Ibanez Artcore that has been modified to sound (and look) like a Gretsch Tennessean (TV Jones Gretsch HiLo'Tron pickups and master volume pot on the bout)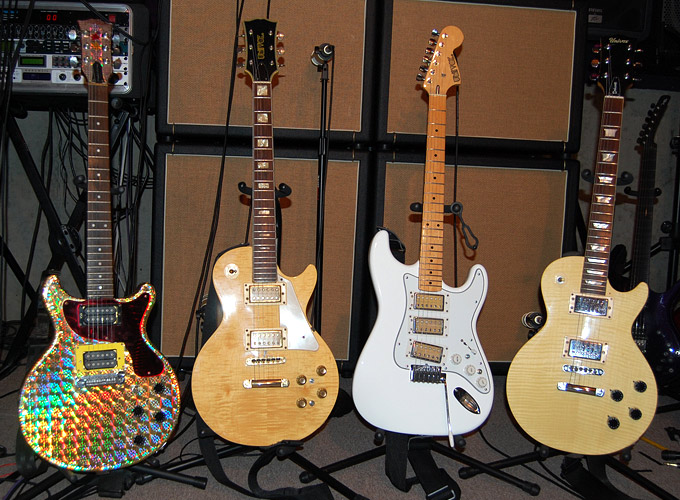 My 70s Univox guitars
My two "Gretschified" Artcores (the candy apple red with the TV Jones TV Classic Filtertron pickups and the Black one with the TV Jones Magnatron pickups; and my Epiphone Casino with custom fitted Lindy Frailin noiseless P-90s and a Bigsby)
My Red Life Saver Parker P-30 and my Noll customized Tele with the Aria Pro II neck

Epiphone 1954 Oxblood "Jeff Beck" Les Paul and
Epiphone Limited Edition 50th Anniversary 1960 Les Paul Standard, Cherry Sunburst, V3 neck

Click to enlarge and see the sparkly detail

Epiphone Classic Les Paul. Custom purple paint job, glitter knobs, glitter pickup rings, glitter pickup selector ring, Ghost MIDI System and electronics (vintage style caps and pots) by Jim at Noll guitars.

.

Parker P-36 with Dimarzio pickups, Ghost MIDI system and custom neck finish by Jim at Noll Guitars/ Ibanez Artcore AFS75T RD With TV Jones TV Classic pickups and Ghost MIDI system installed by Jim at Noll Guitars

Xaviere X-900, X-890 HSS, X-890 dual humbucker

Epiphone 1966 reissue Wilshire with GFS Liverpool pickups and Epiphone 50th Anniversary 61 SG

Xaviere XV-510 and Martin Custom

Honeyburst Epiphone Les Paul Standard Plus Top Pro

Xavier XV-910 with P-90s, XV-620 with GFS 63 Tele Overwound Wound Professional Series Bridge and neck Pickups and Graphtech Ghost System MIDI Hexpander

Xaviere JT-100 with GFS JM90 Overwound Hot Jazzmaster Bridge and Neck Pickups, Xaviere XV-560 wth TV Jones TV Classic Pickup in the neck and TV Jones Power'Tron Pickup in the bridge and Graphtech Ghost System MIDI Hexpander

Ibanez AS7312 Electric 12 String with GFS Memphis Alnico 2 Rickenbacker tone Vintage Jangle Bridge and Neck Pickups, Epiphone Les Paul Standard Pro with Graphtech Ghost System MIDI Hexpander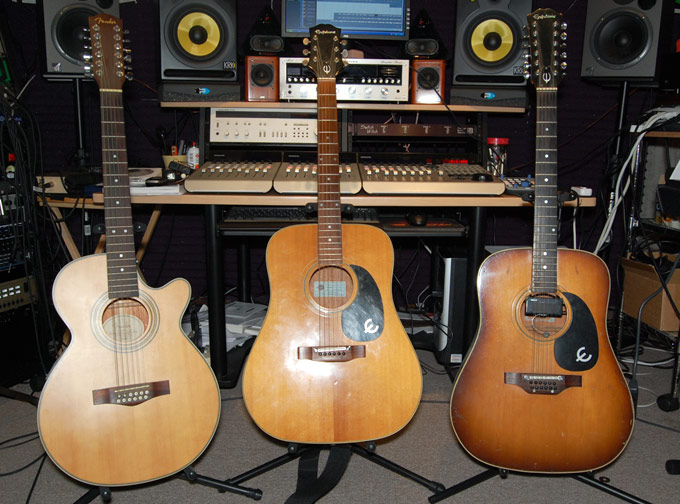 Acoustic Guitars
Fender 12 string, 70s Epiphone Texan and a 70s Epiphone 12 string


Basses
Peavey RSB Bass, Custom Bass (Epiphone Precision Bass body, Fender hardware, Fender Vintage '62 Precision Bass Pickup and an Allparts 70's Fender Jazz Bass neck - Geddy Lee Style), Jay Turser Hofner Style Violin Bass and an early 60s Hofner Club Bass
Drums
Eight Pintech tom pads (8', 10" and 12"), A Hart Snare pad and a Roland Kick pad going into a Roland TD-30 V-Drum module running BFD-2 and BFD-3 Software in Cubase Pro 8, but lately I've been running lines from the TD-30 into Cubase -  the V-Kick on one track, V-Snare on another, V-Toms L&R on two tracks and V-Overheads on two more. I don't use the V-Cymbals or the BFD Cymbals . I use real cymbals - Sabian, Paiste and Zildjian. I take the V-Overheads and the real cymbals, subgroup to a channel called "overheads" and add some room or studio reverb (maybe a live room or studio from Altiverb), so it sounds like the drums from the V-Overheads and the real cymbals were recorded in the same room. I don't have a giant studio with a great drum room, so this simulates it. Actually, it sounds pretty convincing.
Overheads at the moment are JJ Audio modded C1 mics, JJ Audio U87 clone with vintage NOS transformer (made for a vintage U87) for the ride and an Audix F15 for hi hat. I switch from time to time and sometimes use Cascade Vinjets, Shure Sm27s and have used dynamics like Audix i5s and Shure SM57s (Geoff Emmerich used AKG D19 dynamics on almost all of the Beatles records that he engineered)